Meribel is beautiful all year round, there are plenty of activities to do in the summer but it's during the winter season that the resort really comes alive. Year after year our guests ask us how to make the most of the slopes and après-ski activities available. There are so many things to do in Meribel we've listed our favourite things to do for both skiers and non-skiers below.
If you've never been to Meribel before, or simply want to try something new, follow our guide below on the best things to do in Meribel. From family fun to bars and restaurants, there are plenty of places for you to create great memories and new traditions.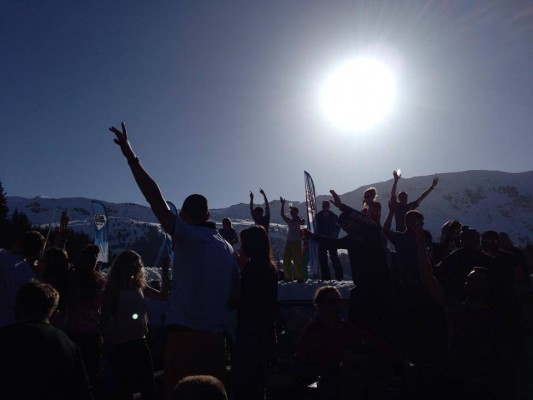 Fun for all the family: Skiing, Sledding & Snow Parks
Meribel is the perfect resort for all the family and we have the same families visitng year after year. There are plenty of places for kids to ski and under 5's go free!
There are two parks above Meribel. Moon Park, one of Europe's best snow parks, which has jumps, rails and boardercross areas that cater for all abilities and Le P'tit Moon, a fun course aimed at children aged five to ten.
The Inuit Village, located on the Altiport is a fun filled course designed especially for kids with a variety of banked turns and slaloms. There's always a children's entertainer on hand to organise some fun activities.
If you want to practise some big jumps but don't fancy crash landing in snow, check out the 'Big Air Bag', which is open every afternoon in Mottaret, Meribel.
As an alternative to skiing, why not hire your own sled and husky dogs with Husky Safari Meribel, its tough work but an extraordinary experience.
Pamper off piste: Spa Packages, Pilates & Private Yoga Classes
If you fancy a day away from the slopes, or simply came to enjoy Meribel as a non-skier, why not head to one of Meribel's many spas or fitness centres.
Situated in the Rond Point des Pistes, Le Yeti Spa offers a relaxing environment kitted out with a gym, sauna, steam room and a range of treatments. Similarly, L'Helios has a wide range of treatments, packages and the added bonus of an overflow pool.
Alpine Therapies offer massages, physiotherapy and private or group Pilates. They operate all year round so whether you're visiting the resort in winter or enjoying Meribel in summer you can access their services.
Restaurants: Gourmet, Grills & Great Wine
Our chalets are catered and will provide guests with delicious meals throughout their stay. If, however, you would like to eat somewhere in the resort, there are plenty of appetising choices.

Dine at Le Blanchot next to the roaring fire or head to Chez Kiki for a meat feast, they specialise in steaks, lamb and duck all cooked with care over an open fire. Le Refuge offer a combination of delicious pizzas, steaks and local cuisine while La Kouisena serves excellent regional dishes in a traditional Savoyard atmosphere.
Meribel's gastro bar 'Barometer' offers a great choice of bar meals served through the day and night, everything from steak sandwiches, oriental duck pancakes, fish & chips and lots more, with a good selection of beers, wines and cocktails. If you are keen for a casual dining experience O'Sullivans is a great place to visit if you want a relaxed night out. There are plenty of dishes to choose from including sharing platters and a variety of steaks.
Bars: Champagne, Cocktails & Cold Beers
Just above Meribel Centre lies Le Rond Point or 'The Ronnie' as its affectionately named. This is a must for those of you looking for fun après-ski activities, things can get a little rowdy at The Ronnie, there's live music and a fantastic atmosphere.
Alternatives include Le Poste de Secours, a more elegant affair with a great cocktail menu. If you have a penchant for Jack Daniels, head to Jack's Bar, another lively venue.
Our team are happy to help with any queries you have about things to do in Meribel during your stay. We can recommend childcare services, advice on booking ski schools and links to buy ski passes.