Here at Ski Cuisine, we believe quality food is a must up in the alps. There is such a huge variety of different restaurants in Meribel that you'll be spoilt for choice. There is something for everyone, from cosy mountain eateries to exciting après-ski bars and chic inventive restaurants. Here are some of our favourite recommended restaurants in Meribel.
Located on the main Doron piste leading to Meribel you will find the Adret Telebar, accessible in winter only by skis, snowboard or on foot. There are two restaurants available all throughout the day. Available for breakfast, lunch or dinner there is a wide variety of fantastic food. At midday the main restaurant offers grilled meat, fish and omelettes, as well as delicious afternoon tea including waffles and hot chocolate. The snack bar, called the 'Cookies Club', offers a wide range of salads, soups, homemade burgers and paninis, where you can enjoy this outside on the south facing terrace. In the evening you can enjoy a delicious range of traditional Savoyard specialities, including raclette, fondue and tartiflette. Adret Telebar is also a favourite with mountain professionals, so if you're a keen skier they are always happy to share their knowledge.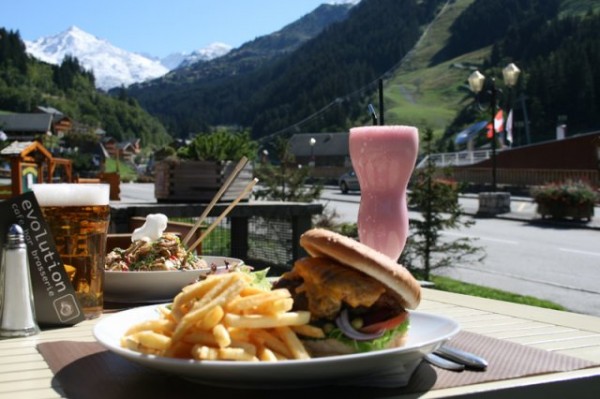 Evolution is great for families or those looking for a young, friendly atmosphere. With its personal but professional service you'll receive a great dining experience in relaxed surroundings in this Meribel restaurant. The locally produced food is great value for money and is open all year, serving breakfast, lunch and dinner. Situated just 50m from the main ski lift, it's great if you want to grab a bite to eat while you're on the slopes. Evolution also offers a cyber café, free Wi-Fi, Sky TV, board games and live music from 10pm until midnight. When you're thinking about going keep an eye out for their special monthly offers, as once a month they serve all you can eat tapas or curry.
This is one of the finest restaurants in the Meribel Valley, and certainly not one to be missed. A traditional wooden chalet with a roaring wood fire, you'll be treated to superior gastronomy in beautiful surroundings, and if you decide to sit on the terrace you'll be treated to spectacular mountain views. Situated near the slopes, you can either reach it by skiing or snowboarding straight to the door or by car. If you don't want to do either, it is helpfully located on the free Meribus route. With its high standards of cooking, ambiance, decor and quality of service, you'll be treated to an inventive and contemporary style of cooking, which also includes vegetarian and fresh fish options. If gastronomy isn't your thing, they also serve a simpler more traditional menu in their upstairs dining room. If you're visiting at lunch it's slightly cheaper, and there is also the option of a 2-course skiers menu for those who want to sample their inventive cooking on a slightly smaller budget.
This is a very popular restaurant in Meribel so it's advisable to book in advance.
Right in the centre of Meribel and just a stones throw away from the piste, La Taverne is located perfectly for those wanting to grab a bite either before, during or after they've been on the slopes. Breakfast is served from 8am and food is continued being served till the very early hours of next morning (late night snacks at 2am anyone?). Serving everything from typical bar favourites such as burgers, pies and sandwiches, to more international style of foods such as grilled salmon with Mediterranean vegetables, there's definitely something for everyone. You can choose to either sit outside on their terrace and be surrounded by the superb mountain landscape or sit inside in their cosy dining room and soak up the friendly atmosphere. La Taverne also offers free Wi-Fi, live music and has a big screen for sporting events.
Situated at the Rond Point des Pistes in Meribel, it's in the perfect location if you're looking for a special place to eat at lunch while you're skiing or snowboarding or straight after you've finished on the slopes for dinner. If you happen to be visiting in the summer, why not have a fun game of petanque on the terrace overlooking the mountains or have a dip in their double swimming pool?
The prices may be slightly higher that normal, but with such high standards, it's what you'd expect. You can eat well for around 30-35€. In the evenings if you're wishing to sample their gastronomic food, expect to pay around 50-65€.
Le Refuge
Le Refuge is a great place to grab a quick pizza which you can eat in, or if you want to go back to your chalet and relax, you can takeaway too. There are a wide variety of snacks, as well as the odd meat dish. Finally if traditional is more your thing, there is a range of traditional Savoyarde dishes and salads for you to sample too.
Have we missed your favourite restaurant in Meribel? Tell us where you like to wine and dine after a hard day on the slopes!