Whilst there are a number of options to ski at higher European resorts during the summer, it always feels a bit odd to come down the mountain and have to shed your clothes as the temperatures rise to 20+ degrees -- so we're looking at those resorts that are in the Southern hemisphere and offer a different winter skiing experience.
You will need to travel quite far to reach these destinations and when you get there they will not be your typical Alpine village. These resorts tend to be smaller and often not as well equipped as the European resorts that you know well. They do, however, offer thrilling skiing when it is just too hot in Europe.
1. Chile - Valle Nevado
Valle Nevado is South America's premier ski resort, offering access to the largest amount of terrain and the most modern lift system on the continent. The largest ski resort in Chile, the complex provides a complete experience, including boutique shops, three hotels, private apartments, six restaurants, a full-service spa and fitness centre, cinema, library, bars and lounges, a pub with live music, a kids entertainment centre and a state-of-the-art events venue, all set to the breathtaking backdrop of the magnificent Andes.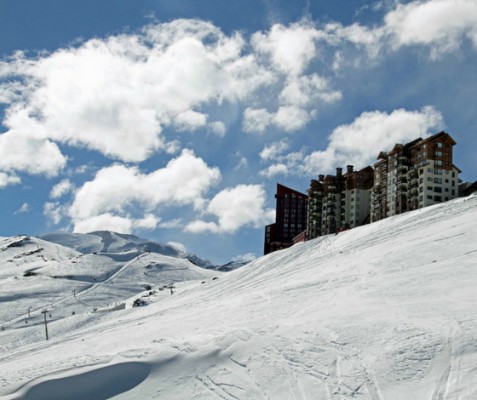 Located just 90 minutes from Santiago, Valle Nevado offers 2,200 acres of varied terrain and 17 lifts including the country's only gondola. Due to the resort's orientation and altitude of nearly 10,000 feet, it gets a seasonal average of 300+ inches of snow.
The resort has a terrain park, plenty of side and backcountry terrain, and you can buy interconnect tickets to neighbouring resorts, opening a staggering 7,000 acres of terrain.The adventurous ones can go heli-skiing, a spectacular experience with vertical drops of up to 5,000 feet in one run.
2. Australia - Perisher, Snowy Mountains, New South Wales
Perisher, within Kosciuszko National Park in "the Snowies," is the largest ski resort in the hemisphere, consisting of four towns, 4.6 square miles of ski terrain, 47 lifts, and an underground railway called the "Skitube."

Perisher has well developed facilities and services for skiers and snowboarders, which are spread across the four villages and the Bullocks Flat Skitube terminal. Perisher is a large resort so you won't feel you are doing the same run repetitively.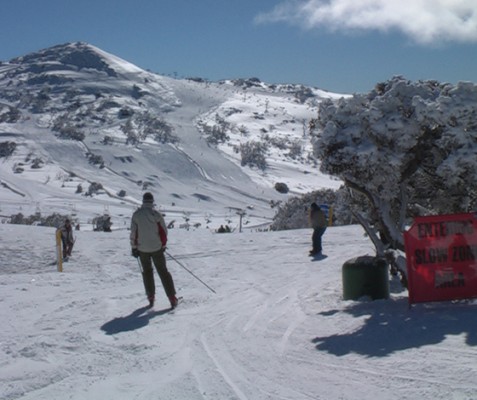 The terrain is incredibly well suited to intermediate riders and whilst Australia isn't known for its powder, Perisher snow quality fares better thanks to aspect and altitude.
Whilst it is a very family friendly resort, this is a tame mountain with little on offer for experts and it can get very busy, particularly at weekends and school holidays.
3. Argentina - Tierra del Fuego, Patagonia
Located right down in the very south of Argentina (almost opposite the Falklands!) the ski resorts and slopes of Tierra del Fuego offer some of the best skiing to be had anywhere in Argentina and the world.
Located close to the main town of Ushuaia, it is easy to combine a few days on the slopes with some superb food, walking and outdoor activities. Moreover, with some of the only southerly facing slopes in the world, the powder that is offered here is indescribable!
There are mellow bowls and options for all levels of backcountry skiers, whether doing day trips or multi-day excursions.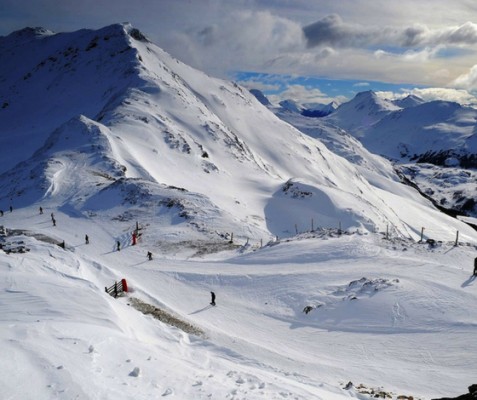 Resorts such as Cerro Castor have excellent snow conditions, modern chairlifts, lots of on-mountain dining and runs that are well groomed. You'll never see any queues at the lifts and the ski rental equipment is good quality.
4. New Zealand - Aoraki/Mount Cook, South Island
As Aoraki/Mt Cook soars high above you (New Zealand's tallest mountain), the ski fields of Roundhill, Mt Dobson, Mt Olympus and Ohau are laid out before you.
This is MacKenzie country, with a number of close, but separate ski areas. Add thermal hot springs, a Unesco star-lit observatory and the photographer's dream destination of Lake Tekapo and Mackenzie stands tall in the world of ski resorts.
The Mt Olympus ski area is set in a high, south-facing basin within the Craigieburn Range; it's famous for a superb balance of sheltered terrain and the ability to capture dry powder.
Mt Dobson provides a great balance of groomed trails and off-piste for the more adventurous, with a large area of developed trails as well as miles of fresh untracked snow.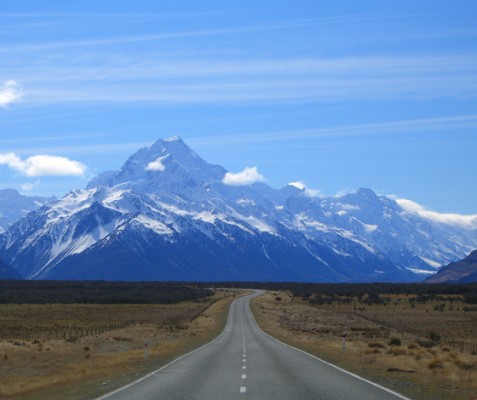 Ohau offers snowboarding and skiing at its best -- powder snow, sunshine, uncrowded slopes and a double chairlift! There is also a platter and a fixed grip lift (have you used one of those before?). The main trails and learner's slopes are groomed regularly.
The "Boulevard" offers learners and intermediates an easy and fun skiing or snowboarding experience from the top of the chairlift down to the base facilities. The chairlift also provides access to a wide variety of slopes suitably challenging for experts and exciting for intermediates.
Roundhill is a family ski area with impressive views and something for everyone. For the more adventurous, head up the world's (yes that's right!) longest and steepest rope tow and see what Australasia's biggest vertical drop (783m) is all about.
These resorts are all about drags and T bars, so don't expect your heated eight-man covered lifts here!
5. South Africa - Tiffindell, Drakensberg
I bet you weren't expecting this one!
In the South African winter (June, July, & August) this resort is all about snow! Tiffindell's state of the art snowmaking equipment allows them to make snow throughout the season.
They have the best snowmakers in the country (only snowmakers in the country?) and do everything possible to ensure the snow lasts throughout the winter season.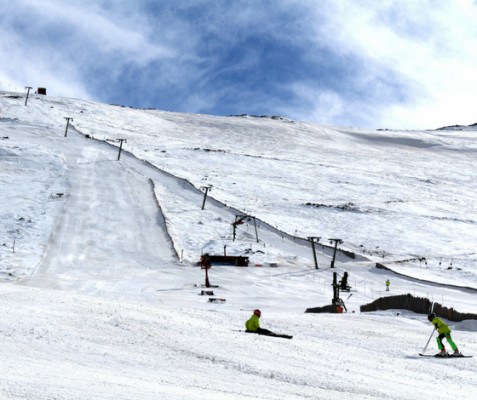 Although not particularly expansive and I wouldn't suggest going here for a full week's ski holiday, there is a wide beginners' slope serviced by a rope tow, a Main Slope (which would be a red run from above the Yeti Bar) and the Gully Slope, a blue run. Two long button lifts will take you back up the mountain after each run. Tiffindell offers slope lengths of around 1.3km in total, descending from the highest peak in the Cape Province. The Main Slope gets increasingly steeper the higher you go up and has been "homologated" by The International Ski Federation (FIS) for Slalom and Giant Slalom courses. The only FIS race on the African continent are held here annually!
So if you're in the area, it might just be one of the more unusual ski destinations you have visited!