After a long day on the slopes, you want to be able to go back to your accommodation and relax, without the stress of cooking your own meal or trying to find a restaurant in Meribel that everyone enjoys. A catered chalet for your ski holiday offers unparalleled ease and, and with everything taken care of, you can spend all your time focusing on the slopes.
What to expect from your catered ski chalet
A catered ski chalet is the optimum in luxury accommodation when heading to the slopes for your skiing holiday. Nothing is more relaxing than coming home to an open fire in your own catered ski chalet after an exhilarating day.
When on a catered chalet ski holiday, you may prefer to book a chalet just for your group, so it isn't like a hotel where you stay with other people. Some chalets are available to book by the room so if you are a smaller group or just a couple you can share a ski chalet and get to know your fellow chalet guests. Chalet staff will be on hand to help you during your ski holiday; feel free to ask for information about your resort, you'll be getting first hand knowledge of the town.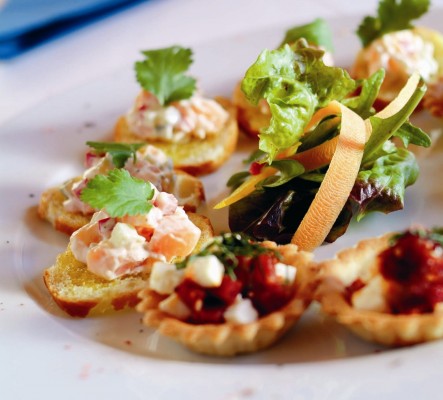 Of course, the benefit of a catered ski chalet is that your meals are cooked and prepared for you. Typically, a catered ski chalet will have staff that will provide housekeeping services and who will cook your meals. These meals will usually include breakfast, afternoon tea, pre-dinner canapés and a 4-course dinner, as well as unlimited wine. Our catered ski chalets in Meribel offer all of this, and we make sure we only serve the most exquisite food. Take a look at our sample menus. We also offer special menus for children, take a look at our sample children's menu.
A catered ski chalet will make sure that all dietary requirements are taken into consideration, and will give a range of options. For breakfast expect typical European food including croissants and pain au chocolates, as well as the option of a traditional English cooked breakfast. Go off on the slopes for the day, and when you come back, expect freshly baked cakes and pasties. When it's time for dinner, expect pre-dinner canapés followed by a delicious 4-course meal. What could be better?
Differences in accommodation
When off on a skiing holiday it's important to consider all types of accommodation and the benefits of each so that you can decide what's best for you.
Hotel
If you're planning on spending more time on the slopes than in accommodation, then a hotel might be for you, as where you're staying won't be as important. Most ski hotels will come with lockers or a dry room so you have somewhere to leave your skis or snowboard. Of course, you'll need to consider the restaurants within the hotel and if you'll need to go out for your meals. Depending on where your hotel is located, it might be difficult to get around without a car or bus service.
Take into consideration how close the hotel is to the slopes as well, and if the hotel offers a shuttle service, as it can be difficult to carry your skis to the slopes if it's far away.
Self catering chalet
Like a home away from home, self-catering allows you to have an apartment or chalet all to yourself. It's up to you then if you want to go out for meals or if you want to pop down to the local supermarket and cook meals yourself. Remember how tired you'll be at the end of the day, and how far away your accommodation is to the main resort. You might not feel like cooking as you're on holiday, and it may prove expensive dining in restaurants each night.
It is also important to consider if the chalet or apartment has a room for you to leave your skis and snowboards, and somewhere to dry out your ski clothing.
Catered chalet
A catered chalet is truly the ultimate in luxury when going on a ski holiday. You can decide between booking a chalet just for your group or to share with other guests. When booking a catered ski chalet you will have your meals prepared for you and housekeeping provided by your chalet staff, so all you have to do is relax and enjoy the slopes. A catered ski chalet is the perfect choice for those wanting to enjoy restaurant standard meals but in the comfort of your chalet with your own chef who will cook you delicious freshly prepared meals each day. Your host will ensure that you are relaxed throughout your stay and will be on hand to offer assistance and advice on how to get the most out of your ski chalet holiday.
Of course, it's important to consider how close it is to the slopes and the nearest village. The benefit of being in a catered chalet is that you can ask the chalet staff to recommend the best places to go and how to get around so you'll be getting the best first-hand knowledge of the resort.
There really is no better holiday than a catered ski chalet holiday. If you're interested in a catered ski chalet in Meribel, then get in touch to find out more about our availability.